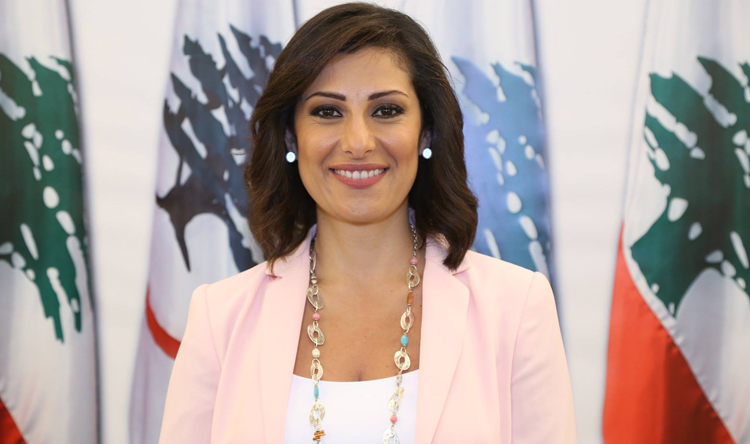 The new electoral law was an achievement for Lebanon but had a distinct Lebanese Forces touch, the party's secretary-general told The Daily Star Wednesday in an interview. "We have to congratulate the Lebanese people for [the electoral law] as it was a joint effort by all political parties, with a Lebanese Forces twist," the party's Secretary-General Chantal Sarkis said. "Some people say [the law is] too complicated, but the Lebanese society is complicated. We are not a homogenous society like Denmark or Norway."
Sarkis added that because of Lebanon's diverse confessions, political parties and regions, the proportional system was not easy to agree.
"Then again, if I want to explain the former winner-takes-all system to someone from abroad, they would stop and ask how one would calculate the votes with the confessional quota,"she said.
However, Sarkis said, [proportionality] wasn't only applied in Lebanon. "They use this system in Iraq, Brazil, Ireland. For the voters [in Lebanon], understanding the law should not be an issue," she said.
Pointing out that preprinted ballots will be used for the first time, Sarkis said this would prevent candidates and parties from tracing back ballot papers to specific voters.
With the new law, voters will enter the polling station with a preprinted ballots. Each list will have a color and each candidate will have a picture by their name. The candidates of an administrative district will be placed at the top of the list in a different color than that of candidates from another administrative district, but same electoral district. The new law divides 15 electoral districts.
"In Aley and Chouf, which are two administrative districts but one electoral district, the voter in Aley will have a preprinted ballot that will start with the candidates of Aley so it'll be easy for the voter. The voter will see the candidates on top of the list and if he or she wants, will place a check by the candidate he or she wants as a preferential vote."
The Interior Ministry has the responsibility to educate voters and poll workers and develop software to electronically count ballots based on the new proportional system.
Normally, the ministry needs between six and nine months to prepare for an election, which would have scheduled the vote for winter. Sarkis said winter conditions pose challenges for polls, which is why they were postponed until next spring.
As for the new magnetic voting cards, Sarkis remained skeptical. "It's not just about the production of the cards, but about the production and distribution of them to more than 3 million Lebanese voters inside and outside of the Lebanon."
Turning to potential political alliances, Sarkis said it was still too early to say. "We have allies, we have friends, but we have to make our own calculations and decide where we have common interests to be with our allies in some districts and not in others."
When asked about the Free Patriotic Movement now being pressured into giving the LF a seat in the Kesrouan area, traditionally dominated by FPM, Sarkis said: "No one is going to give us anything, but with this law we have a high probability of winning seats, especially in the districts where we don't now have any representation, such as Jbeil, Metn, Baabda, Baalbeck, Jezzine and Akkar."
Sarkis, herself from Akkar, said she had no intention of running for Parliament but that the final call was with the LF politburo. "I am very happy though… as LF secretary-general."
Playing down any potential rift with the Druze-backed Progressive Socialist Party, Sarkis hinted that there would be no electoral confrontation. "The Mountain Reconciliation and coexistence in Mount Lebanon is something that is substantial and essential to us," she said.
When asked if the hotly anticipated electoral battle in the area wouldn't materialize, Sarkis said: "We are very fond of keeping this [reconciliation] and it is in both of our interests as Christians and Druze to coexist in the mountains and to maintain this. We do not want to let elections cause a rift and force displacement as before."
Sarkis said the LF was, and still is, for a transitional female quota of MPs, but "there was one political party in particular who did want this," without naming it.
"The LF will have more than one female candidate on lists across the country, in all districts, but they will not just be for the sake of having females on the list. They will be strong and serious contenders to win the seat[s]," Sarkis said.
Responding to critics who say the law was formed to meet the interests of certain parties, she said: "We respect all opinions, but what was their suggestion? In Lebanon, we don't have an ideal vote law because there is no vote law in the world that fits all," adding that those of the United Kingdom, France and other major powers are also not perfect.
"Until today, [people] don't believe we will have elections … because they were left hopeless after nine years. This law was made in Lebanon, by the Lebanese … and we need to stop nagging and being pessimistic. This new law is a glimmer of hope."