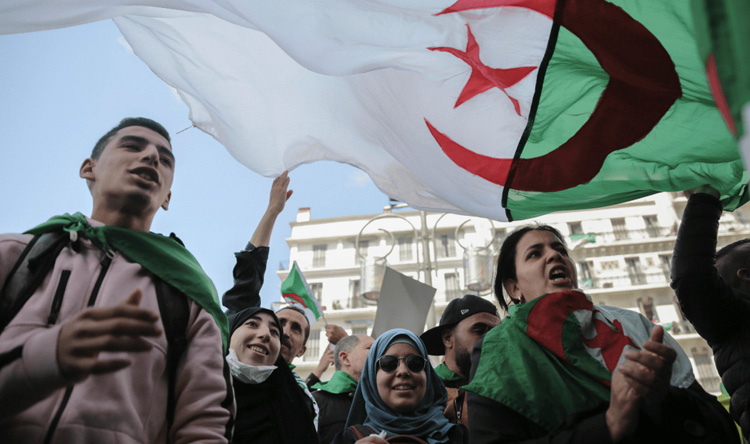 Algerians celebrating invaded the streets, you might think it Is the national Independence Day, or some Algerian holiday.
But, Unfortunately, Not!
It is actually the people celebrating, the resignation of their president, weird to hear such a matter but it is something we got used to in the Arabic world, it is what I call, or so called "the chair illness".
Now the question that has been asked lately, after instability in Algeria, has the Arab spring arrived to Algeria?
Historical overview
Algeria or officially the People's Democratic Republic of Algeria, is a country in the Maghreb region of North Africa, the tenth-largest country in the world, the world's largest Arab country, and the largest in Africa.
The country is a semi-presidential republic, and Ancient Algeria has known many empires and dynasties, including ancient  Phoenicians, Romans, Byzantines, Abbasids, Fatimids, Ottomans and the French colonial empire.
Beside that Algeria is a regional and middle power. It supplies large amounts of natural gas to Europe.
The region of Algeria was partially ruled by Ottomans for three centuries from 1516 to 1830. The French invaded Algeria in 1830.
From 1848 until independence, France administered the whole Mediterranean region of Algeria.
The war against French rule ended in 1962, when Algeria gained complete independence on the 3rd of July 1962.
There was a Civil War for 11 years from 1991 till 2002, it was an armed conflict between the Algerian government and various Islamist rebel groups.
The conflict effectively ended with a government victory, following the surrender of the Islamic Salvation Army and the 2002 defeat of the Armed Islamic Group.
How it all started
Algeria held elections in 1999, considered biased by international observers and most opposition groups, which were won by President Abdelaziz Bouteflika.  Bouteflika was re-elected in April 2004.
 In November 2008, the Algerian Constitution was amended following a vote in Parliament, removing the two-term limit on Presidential incumbents. This change enabled Bouteflika to stand for re-election in the 2009 presidential elections, and he was re-elected in April 2009.
More importantly, elected politicians have relatively little sway over Algeria. Instead, a group of unelected civilian and military "décideurs", known as "le pouvoir" ("the power"), actually rule the country, even deciding who should be president. The most powerful man may be Mohamed Mediène, the head of military intelligence.
Demonstrations invading streets
As we can see, Algeria, has been through some real trouble all over its recent history…
Though it has been a relatively peaceful country since the Algerian war, things broke down again on the 16th of February 2019, ten days after Abdelaziz Bouteflika announced his candidacy for a fifth presidential term in a signed statement.
 However, it is notable that the protest organizers wanted the demonstration to remain peaceful and have issued an appeal for protesters to stay 2 meters away from police cordons and encouraged family members to clean up after the march.
Who is Abdul-Aziz bouteflika
Abdelaziz Bouteflika (82yo) has been president of the People's Democratic Republic of Algeria since 1999, which means that he had been in office for 20 years.
He is a veteran of Algeria's war of independence who served as foreign minister for more than a decade before becoming president in 1999. His government has been accused of widespread corruption and state repression.
Since 2005, and especially after his stroke in 2013 he has undergone numerous periodic checkups, and been almost completely absent.
 Bouteflika's ability to govern the country was called into question: rumors of his death were frequent as he was often hospitalized, he no longer spoke and made very few written statements. In this context, some Algerians considered his announced candidacy for the presidential election, to be humiliating.
Peaceful Protests rising in the country
Most immediately, the protesters wanted Abdelaziz Bouteflika to withdraw his candidacy for a fifth term and wanted Prime Minister Ahmed Ouyahia to step down.
More generally, they called for more democracy, a less corrupt society and for the current governing system to change radically.
Organizers wanted Bouteflika to "renounce" his decision to seek a new term, notably because of his health. The crowd of mostly young people shouted slogans of "No fifth term!" and "No to corruption!"
dozens of journalists called for a "free and democratic press" at a protest in Algeria's capital to denounce their media outlets' refusal to let them cover demonstrations against the idea of Bouteflika' s fifth term.
Direct reasons behind it
Young people are feeling the brunt of the country's difficult economic conditions as 30% of Algerian youth are currently unemployed. Algeria's census remains youthful as a whole, with 54% of the country's 42 million population under the age of 30.
The sharp fall of revenues, less than $80 billion of foreign currency reserves, in this oil-dependent country worsened the situation since there is a lack of funds to buy civil peace as Bouteflika has done since coming into power 20 years ago.
Algeria received more than $1 trillion from oil revenues from 2000 to 2013 but corruption and poor economic policy hindered growth and production for the North African nation to compete in the global market.
Fifth mandate
On 3 March, the candidacy of Bouteflika was filed by his campaign director, though the law stipulates that the candidate must be physically present for this process.
On 17 March, the newly appointed Prime Minister announced the intention of forming a government of politically unaffiliated experts,
Bouteflika named a new government on 31 March 2019 two days before his resignation, and remained minister of defense.
Leaders of the protests also rejected Mr Bouteflika' s offer that he would go by the end of his current term – 28 April – as not quick enough.
During the protests Boutafliqa was rushed to Switzerland to seek medical surveillance, protesters followed him and a fine group protested in front the hospital he stayed in in Geneva.
Army generals stepping in
The youth and women are the main driving force behind these demonstrations, who have known no president other than Abdelaziz Bouteflika. Moreover, the press stood beside the demonstrations and the later on the army as well.
So when the army's chief of staff, Gaid Salah, announced on the 26 March that article 102 of the constitution – allowing the president's removal on grounds of ill health – should be applied, protesters had won something, but their response was cautious.
The following Friday, marchers carried signs saying: "102 is half the answer, the whole gang has to go." The hashtags now were: "Leave means Leave" and "Throw them all out".
A second statement from Gen Gaid Salah demanded the "immediate" application of article 102. Mr Bouteflika' s resignation followed a few hours later.
The resignation
He resigned on the 2nd of April, and addressed his people seeking forgiveness.
Ever since independence, the army has been the real centre of power in Algeria, arbitrating factional conflicts among politicians and business interests, making and unmaking presidents.
Who was truly in power?
A presidential "clan", including wealthy private businessmen, gravitated around Mr Bouteflika and his brother Said.
After Mr Bouteflika suffered a stroke in 2013, Said was increasingly identified as being in control of access and influence at the centre of power.
"Boutaflika wanted to die as president: A group of generals met with the president brither said (mainly in control), requesting the resignation of the president. To hear the answer: Boutaflika wants to die as president, so their reply was: we are about to lose the country, and all your brother cares about is himself, if he wishes to die as a president we are ready to help him. "
After math
The demonstrators are now pushing for the removal of three people they call the "3B". That is Senate Speaker Abdelakder Bensalah, head of the constitutional council Tayeb Belaiz and Prime Minister Noureddine Bedoui. But they want much more than that – they want to dismantle the whole political system.
Algeria's parliament has officially confirmed Senate President Abdelkader Bensalah as acting head of state for the next 90 days, replacing Abdelaziz Bouteflika who ruled the country for nearly two decades. Meanwhile, the announcement led to protests by students who gathered in central Algiers shortly after. Algeria's newly appointed president has set July 4 as the date for the country's postponed presidential election, according to state media.
Is it the "Arab Spring"?
To wrap it up, One thing Algerians don't want, protesters say, is to be compared to the Arab Spring or share the fate of so many of their neighbors.
Protesters have described the demonstrations as a collective rebirth — a milestone in the healing process of a country that has already experienced so much violence. And More than 10 years after the end of the "Black Decade," the wounds of those years still weigh heavily.
It is still unclear whether the Arab spring is manifesting in Algeria, or not. One sure thing, is that the demonstrations were one of kind in the whole Arab world, and the end, peaceful protest for only 7 weeks, throughout of office a 20 yrs. president that a "clan" or the state watching his back.
The economic and social status, needs a spring of course, the young of this country is thirsty for change, protest hasn't stopped even after Boutfalikas resignation, demand for change, end to corruption and renewal of political faces and ideologies is still going on.
We hope that the ongoing spring In Algeria, remains civilized, because one Syria and one Egypt and one Libya and one Yemen and…  are quiet enough for the Arabic world.